On June 18th, 2015, we had the pleasure of meeting up with Yves Ballenegger from Groovy Yurts as they delivered three yurts to Paul Smiths College which is located near Lake Placid, NY.  Bethany Garretson, a teacher at Paul Smiths, will be overseeing an off-grid project at the college where eight students will live in three yurts for the Fall semester.  The students will be doing this to document the experience and for some class credit.  At the time of delivery, the permitting process was not yet complete so the project for that day was to erect and disassemble one yurt for educational purposes so they could do it themselves once ready.
Even though I had never been to Paul Smiths before, it didn't take long to find Yves.  Who could miss this?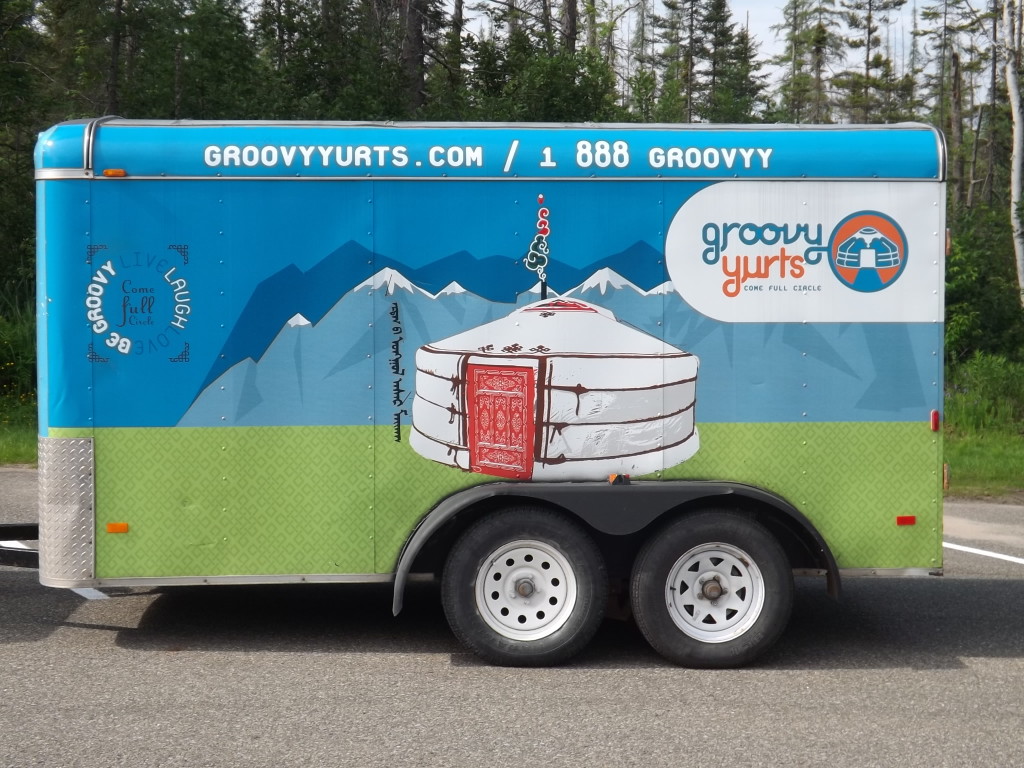 Years ago, Yves would deliver free school supplies to Mongolia via truck from Switzerland.  After a while, he started bringing yurts back with him.  They sold quickly.  Yves now deals exclusively in authentic, hand made yurts produced in Northern Mongolia.  He does business with a couple of local Mongolian families and travels there frequently every year.  He has been working with the same community for about ten years.  While there are other yurt companies offering imported yurts, quality control is always an issue.  Yves feels it is important to create a working symbiotic relationship with his partners on an in person basis.  Only in this way do you achieve quality, he believes.  He falls perfectly into the stereotype of the "quality, quality, quality" demanding Swiss that he is. 🙂
Early on, many importers were bringing in low quality yurts, some which never even survived shipping and this gave traditional yurts a bad reputation.  Yves has been working tirelessly to ensure better and better quality each year.
There are many materials that are not allowed to be exported from Mongolia so Yves has also spent a lot of time making sure that not only do they use quality materials, but also the appropriate ones.
The yurts are generally built by the males of the families, while the women do all of the painting and decoration of the structure.  As seen in the next few pictures, their skills are masterful.
The wood is tamarack, white pine and other local woods.  Traditionally, orange is the color used for yurts in northern Mongolia.  They do however offer other colors upon request as you will see.
The Mongolians are a nomadic people, so each piece of the yurt needs to be light enough to be carried by one person.  It is amazing that three yurts fit so well in the Groovy Yurts trailer.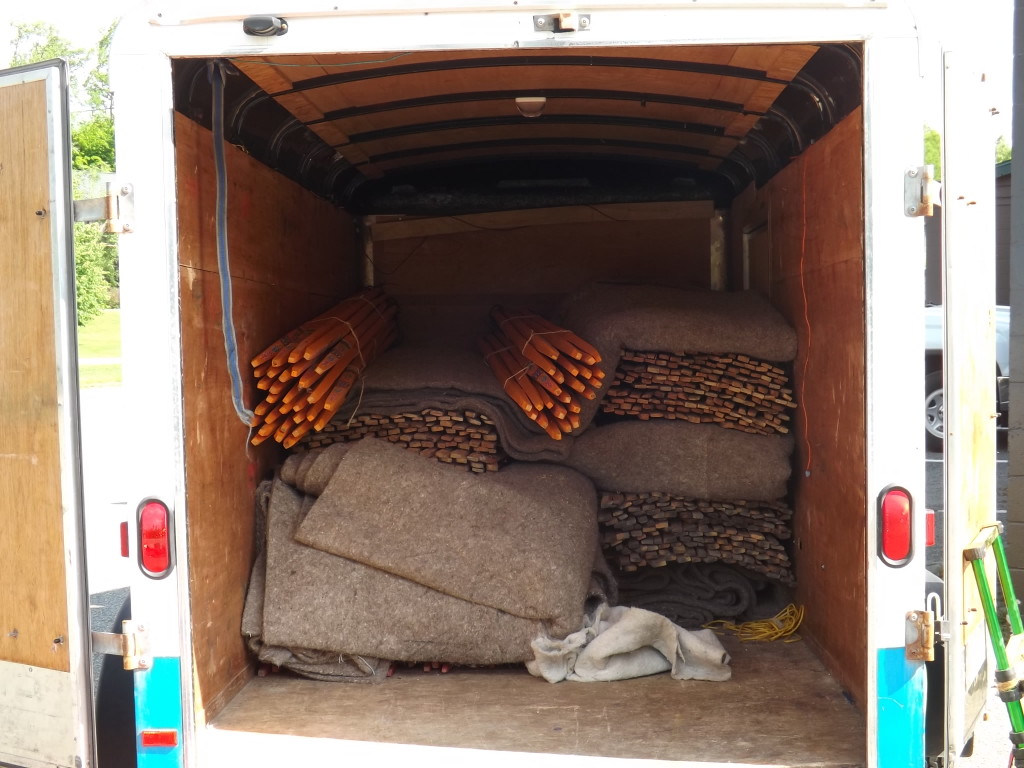 After we got everything unloaded, we began putting up the lattice as the first step.
The hand split lattice is connected by using camel rawhide.  Each section (or wall) of the yurt are connected using horse hair.  The more sections you have, the larger the yurt.  These three yurts are six walled.  That equates to a yurt that is 21′ in diameter.
The next step is to connect the traditionally South facing door to the lattice.  Each door is handmade and unique.  This means you usually have to play with the process of attaching it to the lattice each time.  After a few minutes, they got it set.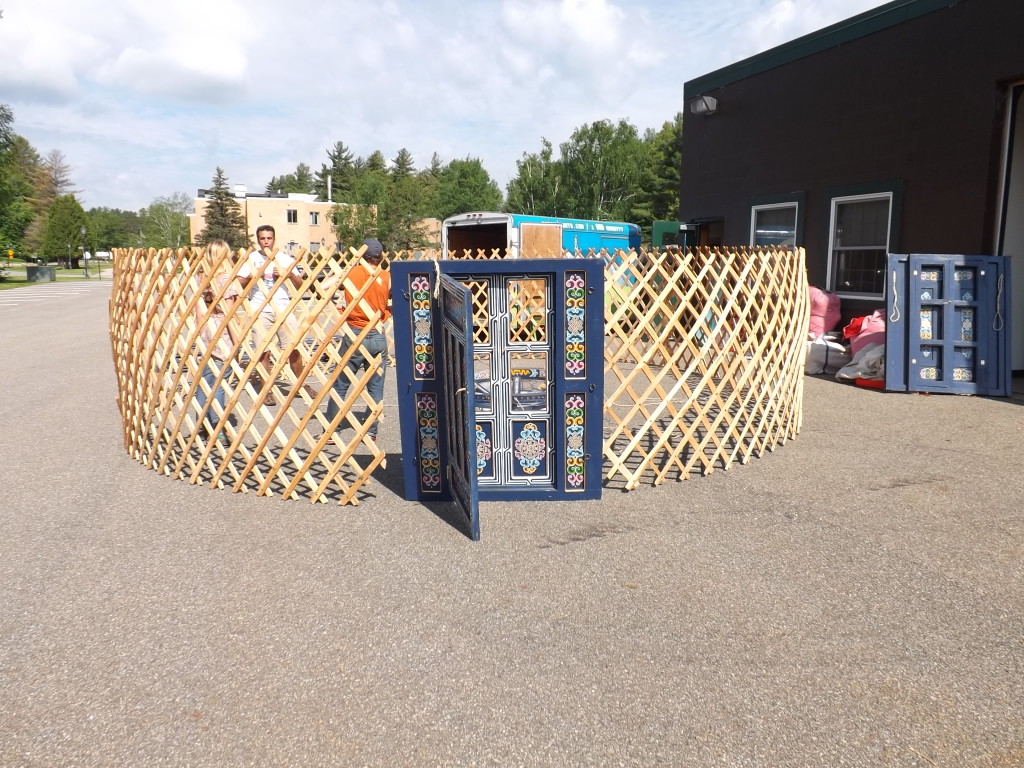 Once the lattice and other parts are temporarily reinforced with some rope, it is time to stand up the toono (center ring).  The rafters will be inserted into holes that are carved directly into it.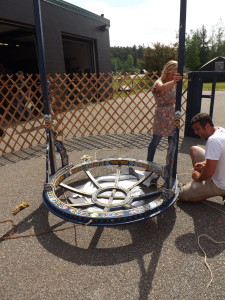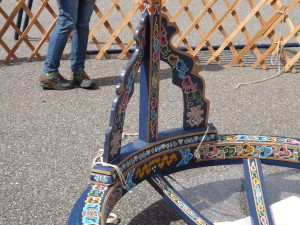 Once standing, the rafters can be inserted.
It is touch and go at this point because you have to be careful not to push and pull on the center ring too much.  It can cause the rafters you already put up to fall.  The temporary ropes caught any that slipped during this setup.  Fortunately the rafters are lightweight so they don't stand much of a chance of seriously injuring anyone.  After a bit of practice, we got this down to a science. 🙂
With 50% of Mongolians living in yurts, it is understandable that they have refined this design to such wonderful levels of simplicity.
This part of the process took maybe, 15-20 minutes to complete.  It probably would have went quicker, but Yves was explaining each step to us which was terrific.  He really has a passion for yurts and it came out clearly that day!
Here is a pic of the frame being completed.  There is still some temporary rope bracing, but that comes off after we put up the fabric.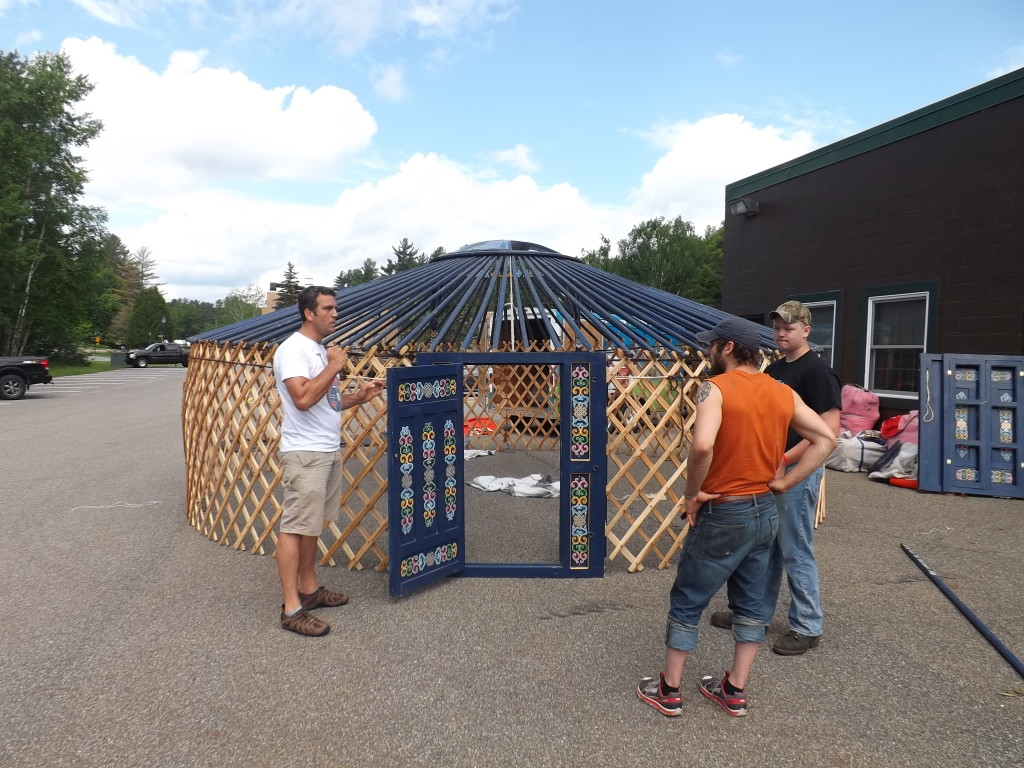 Alex is Yves' right hand man when it comes to Groovy Yurts in this area of NY State.  He helps run the Adirondack Wildlife refuge and rehab center in Wilmington NY.  In this pic, he is putting up the liner.  This is a necessary step because the next layer consists of 100% Mongolian sheep wool for insulation.  A light, fluffy and hairy material, without a liner, you would be sneezing and itching every time you entered your yurt.  Just like fiberglass insulation, it is better if you don't come into direct contact with it frequently.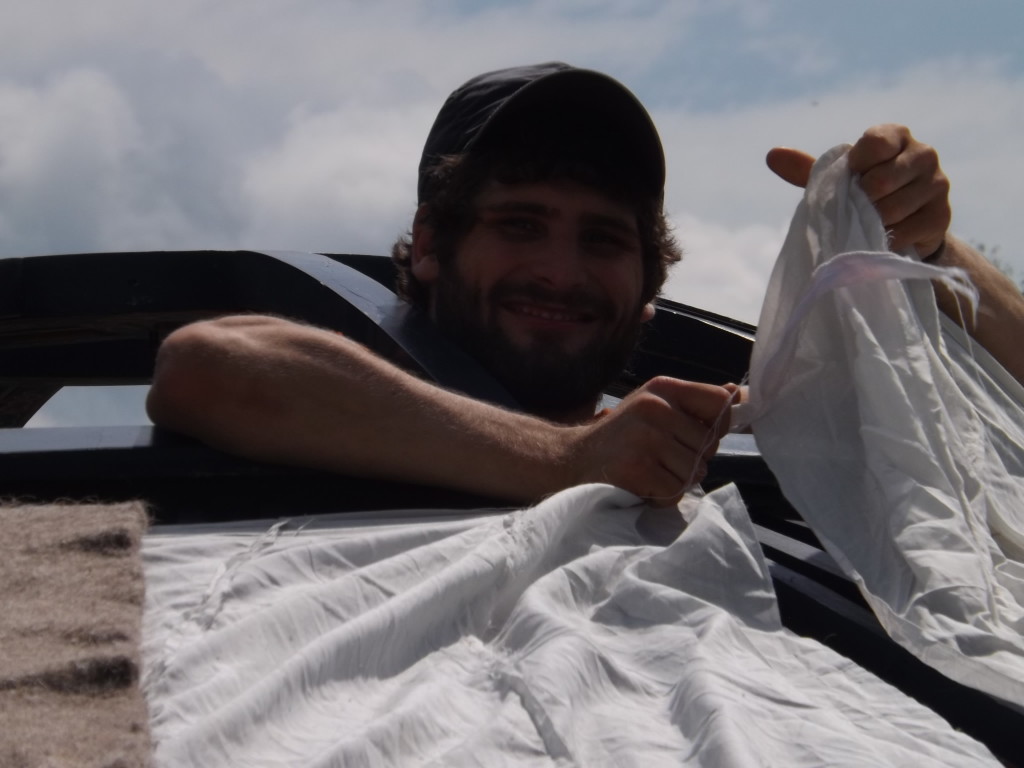 The wool yurt insulation.
We were fortunate it was not very windy that day. 🙂  Traditionally, the center of the yurt roof is open and a fire-pit is in the center of the room.  The smoke would exit from the center.  A positive part of this was that the smoke would eventually make the wool water resistant.  Today however, most in Mongolia use small tin stoves.  Since that is the case, the wool is no longer a water barrier.  Many will use a construction wrap in this step.  In America, think Tyvek or other similar materials.  This keeps the water out.  Since this was just a demonstration, we didn't do that part.  There is a technique that Yves and Alex use to layer the wrap in such a way that water will not enter the yurt.  Though not technically a trade secret, it is one of those things you can only experience if you have a Groovy Yurt. 🙂
Now for the yurt cover.  With help from my son Nicholas, they began rolling out the roof.
Just about done.
Traditional yurts like Groovy Yurts, do not have a rope or cable that sits in the lattice and connects to the rafters.  Rather, the rafters are lightly fixed to the lattice with small pieces of horsehair rope.  The support comes in the next step.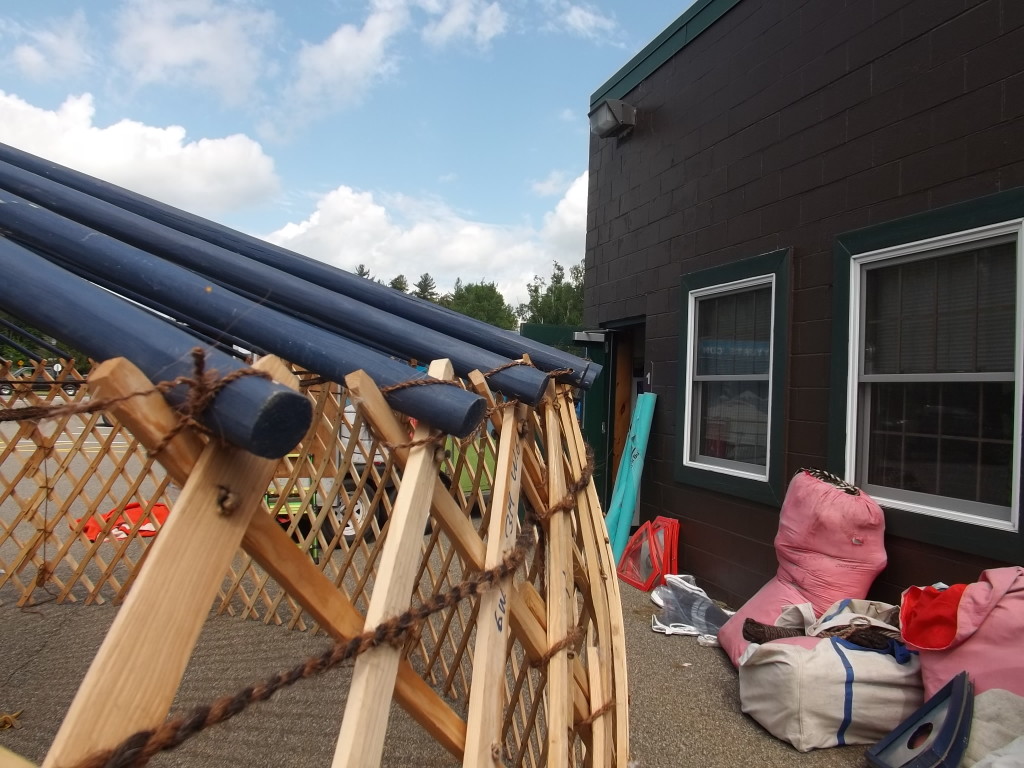 When the fabric is put on, horse hair rope is tied to each end of the door and cinched tight.  These ropes are very tight and this is how the rafters are buttressed.  It is an elegant design.  There are valid arguments on both side about which does better supporting snow loads.  If a yurt is occupied during a snowy season, the question is moot as the snow will melt off the structure daily.
While horse hair is the traditional rope used here, many Mongolians these days will use nylon ratchet straps for practical reasons.  Like most nomads, they use what they can get their hands on. 🙂
Here are some views from the inside.
There is my cousin Karen holding open the inner door.
Here is Bethany inspecting our work. 🙂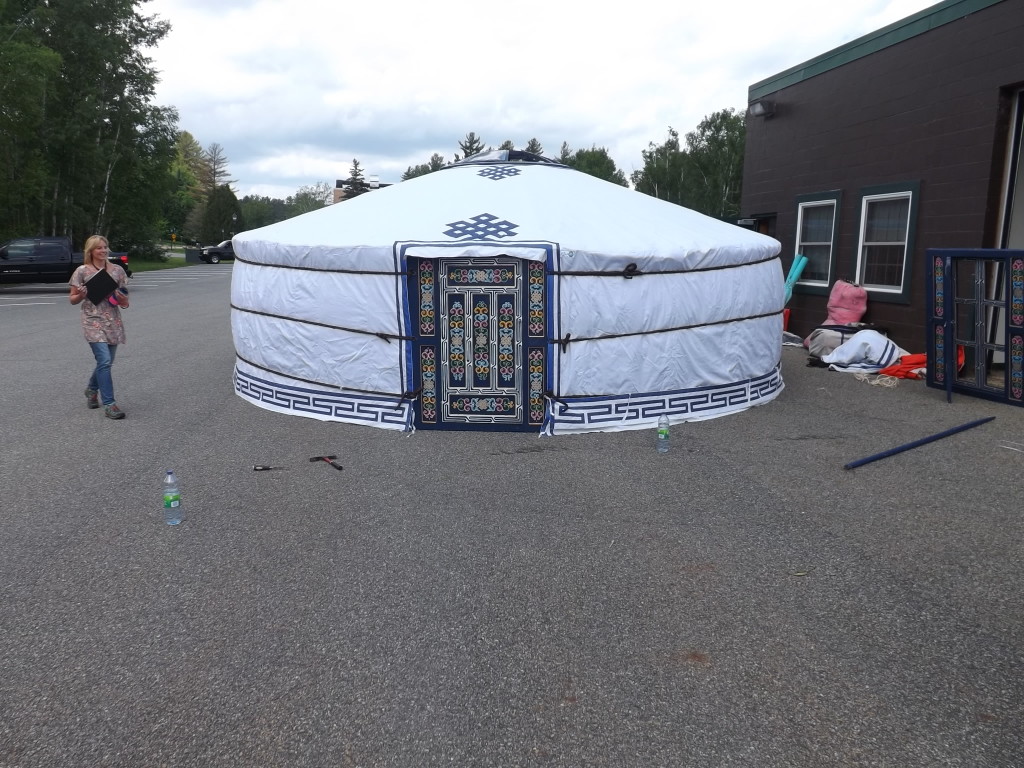 We still have to put the roof cover on.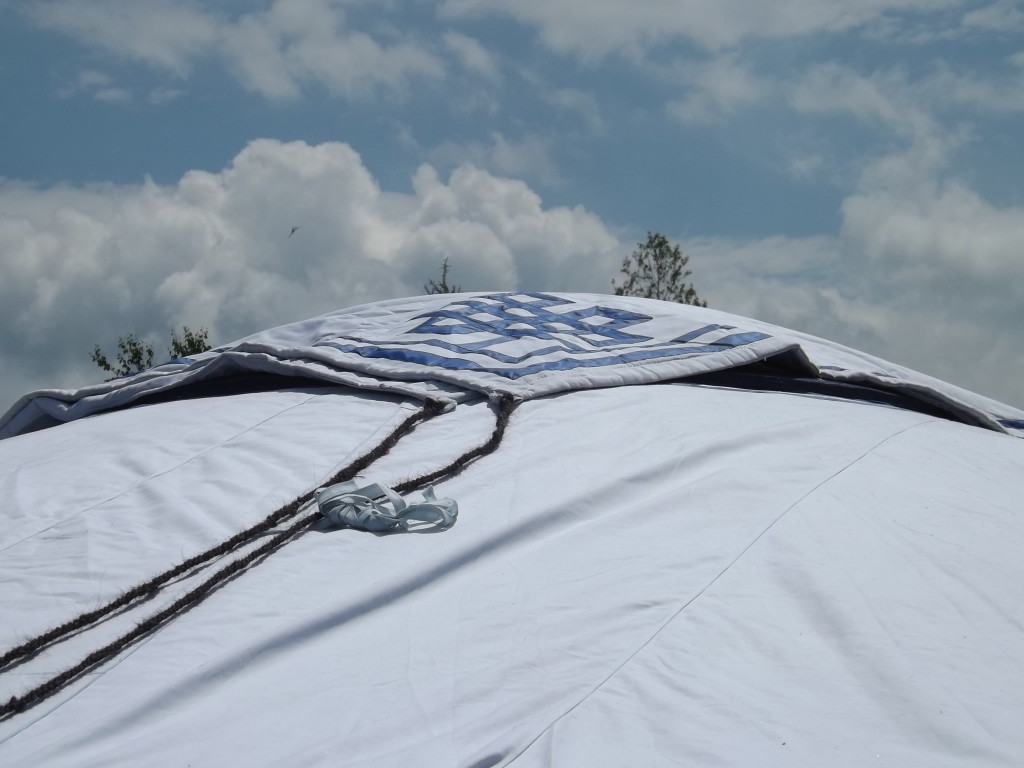 The cover is partially tied to the existing tension ropes.  Alex and Nick are finishing it up.
It was warming up that day so Yves showed us one of the features that traditional yurts have that many engineered yurts do not:  Yurt conditioning. 🙂  That is, you can pull up the fabric from the sides to let the cool air on the ground in.  Since the warm air is rising out of the center ring, it creates a nice cooling draft.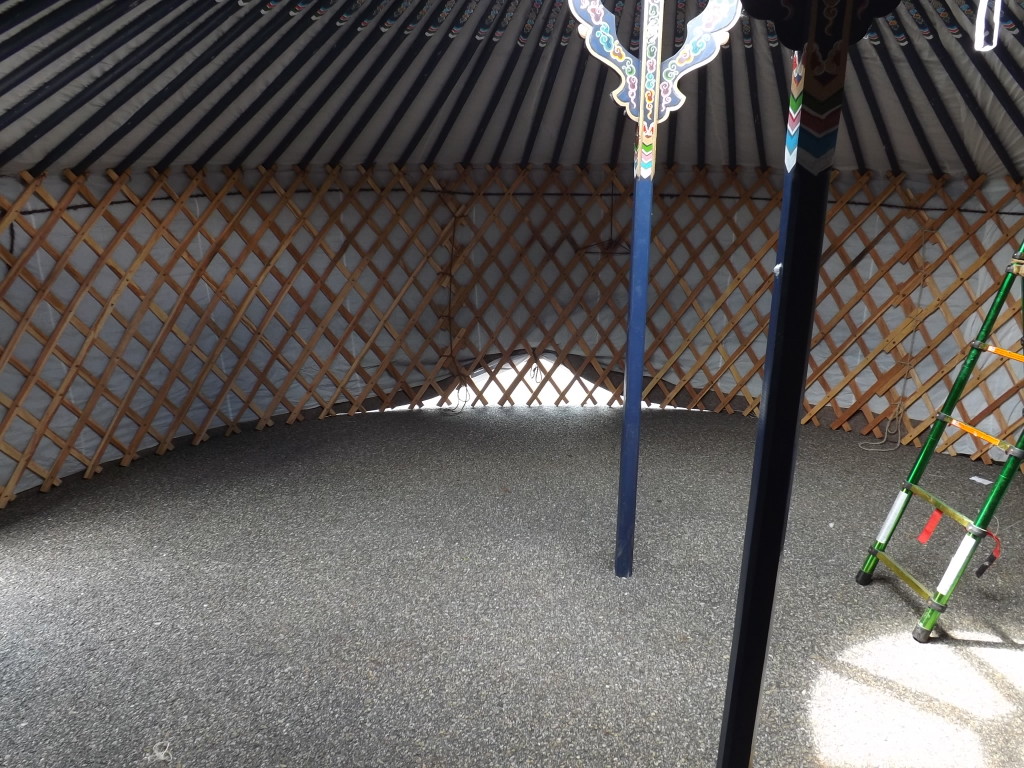 After making sure we entered the yurt right foot first as custom dictates, Yves then removes the temporary ropes while he explains that in Mongolia, they do not secure a yurt to the ground.  They believe they should do as little harm as possible to the Earth.  However, since they live in very windy plains, they would tie the yurt in the center to a heavy object like a stone.  Today they use practical things like an engine block or whatever else is handy.  This keeps the yurt anchored in above average winds.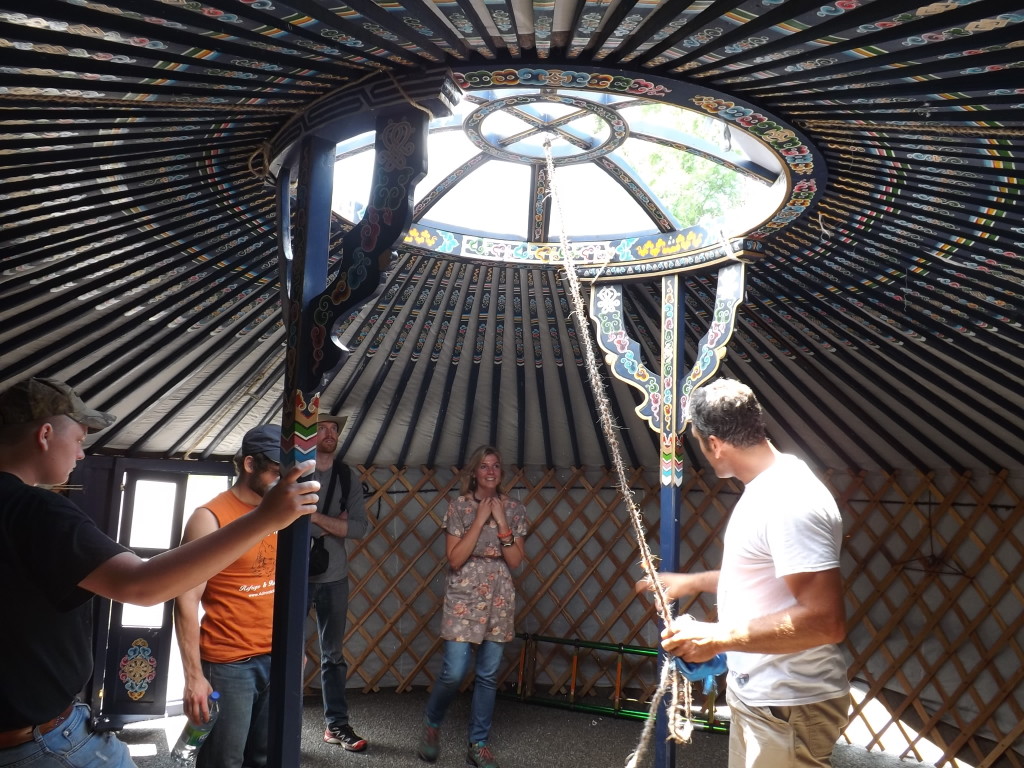 Finally, Yves gives Bethany the Khatag (pronounced Haa-Tahk).  This is traditionally given as a gift with two hands in Mongolia.  It is a symbol of good luck and respect.  You usually tie it to a North facing rafter.
All together with Yves giving history and construction lessons, this took about two hours.  My guess is, if it were just Yves and Alex working without interruption, they would have done it in about 45 minutes to an hour.  Yves says that in Mongolia, they erect a yurt this size in about 30 minutes.
We tore down the yurt and stored it in their building and that took about maybe 30 minutes.
The rafters goes down much easier than they go up. 🙂
When we were done, there wasn't a trace of the yurt left.  It works as designed!
It was a fun time.  Bethany and crew had to leave for other duties, but we did grab a picture of Yves, Jeff Capron (me), my son Nicholas and Alex in that order.  Special thanks to my cousin Karen Capron for all the help and for taking the final pics!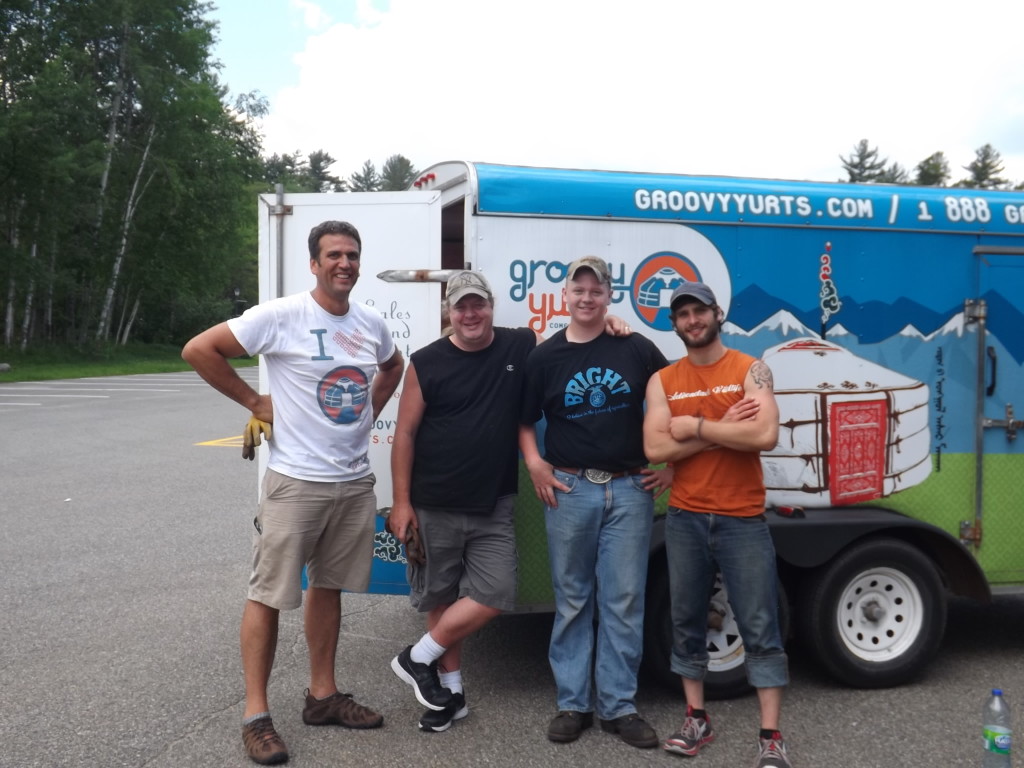 I would like to personally thank Yves and Alex at Groovy Yurts, and Bethany from Paul Smiths for inviting us up to watch the yurt raising.  If you are a yurt manufacturer and would like us to document one of your builds, please contact us!
UPDATE:
Bethany and crew finally got their blog about this project: Yurts & Dirt.