A yurt is a round structured developed in the Mongolia region over the last 3,000 years by the nomadic cultures of the region.  This simple but hardy design has brought the yurt all over the world.  What was once a structure only hand built by Mongolian nomads, yurts are now being built by many craftsmen and yurt kits are now available from many different manufacturers.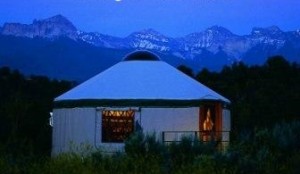 You will find quite a bit of information about yurts here, but we also have links to more reading material in our bookstore.
Recent Yurt Builds
For a few years now, Mike Mabunay has been building his camp in the town of Greig, a small township in the Adirondacks of upstate New York.  His off-grid cabin was recently featured in Cabin Living Magazine.  The entire camp is powered by solar with a backup propane generator for those cloudy North country Fall […]

On June 18th, 2015, we had the pleasure of meeting up with Yves Ballenegger from Groovy Yurts as they delivered three yurts to Paul Smiths College which is located near Lake Placid, NY.  Bethany Garretson, a teacher at Paul Smiths, will be overseeing an off-grid project at the college where eight students will live in […]

I have been looking to add a small yurt at my camp to use as a shower room.  My camp already has a 30′ yurt by Pacific Yurts, but this time I wanted to try something a bit more local.  Surely Yurts is a small yurt business owned by Steve Reed in Taberg, NY.  I […]

Posted in

Yurt Builds Comments Off

on A Visit To Surely Yurts
Becky Kemery originally published this website before her passing, and the Yurt Forum now maintains and cares for it.  We hope you find what you need, but if not, please ask us in the forums and we will do what we can to help you out!
Yurt Kits | Yurt Costs | Yurt Forum | Used Yurts For Sale | Yurt Sales | What is a Yurt?